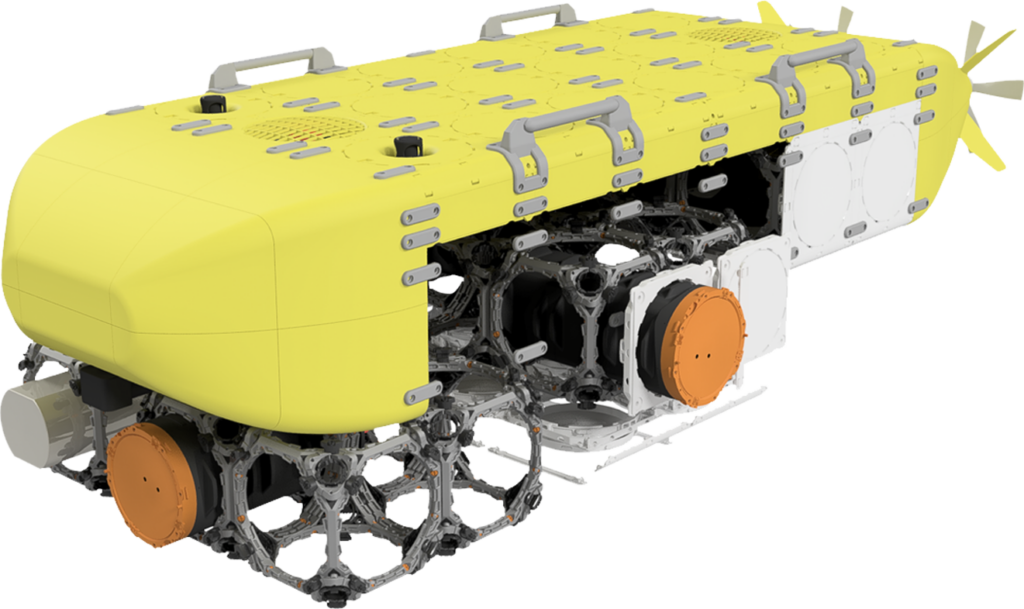 You are here: Products » Scout
Facts & Figures
SCOUT is a hydrodynamically optimized and scalable sensor platform for long-term and wide-range operations in the deep sea, with the capability to operate autonomously or via fiberoptic-tether.
It's perfect for:
Pipeline and submarine cable observation
Seabed observation
Subsoil investigations
In-depth information
The high modularity and performance of the sensor platform allow configurations that enable high agility or even high payload capacities. In addition, the dimensions of the system can be quickly adapted to new challenges with little effort.
Equipped with a pressure-neutral infrastructure as standard, SCOUT can be deployed in water depths up to 6,000 meters. The sensor platform offers programmable interfaces for the integration of external sensors, which can be used for all common protocols (e.g. RS232, SPI, UART, Ethernet, I2C, CAN).
For remote control, routing and data post-processing the system is equipped as standard with the adaptive MISSION CONTROL software. With advanced autopilot options for routing, station keeping or obstacle avoidance.
Whether autonomous inspections of underwater structures, monitoring tasks or offshore survey work, SCOUT is your platform.
Equipped as standard with …
Connection/ interface via media converter to Umbilical (Fiberoptic)
Main control unit including 1 GB Ethernet PoE++ switch (3x 1 GB Ethernet PoE++ ports free)
4x powerpack (LiFePo4 technology)
4x thruster
Stereo camera system (2x full HD cameras, 4x LED spotlights)
Sonar
USBL
DVL
Operating and planning software MISSION CONTROL
Surface control unit: integrated into a portable container module and includes high-power-charger, data-interface, wireless handheld PC with control unit and monitor
Requires a 400 VAC power supply
Hand-held tether management system
Technical specifications
Depth Rating (msw)
1,000 (option 6,000)
Dimensions (mm)
Length: 3,125
Width: 1,025
Height: 650
Deadweight on air (kg*)
350
*1,000 msw depth rating
Payload (kg)
5.0
Thrust (kgf)
forward: 80
lateral: 0
vertical: 45
Speed (knots)
3.0 (transit) – 5.0 (sprint)
Sensors
Depth
Temperature
Motion sensing with magnetic position sensors and accelerometer
USBL acoustic navigation and communication
Altimeter
Full HD stereo cam
Doppler velocity log
2D / 3D sonar
Power
Input Deck unit: 400 VAC (50 Hz)
High Output AUV: 48 VDC – max. 25 A
Low Output AUV: 2.5-50 VDC (PoE++) – max. 2.2 A
Endurance: > 8 h
400 V AC for battery charger
Data
Umbilical: 10 GB Ethernet over Fiberoptics)
AUV: 1 GB Ethernet with PoE++
Is SCOUT right for me?
Ask an expert!