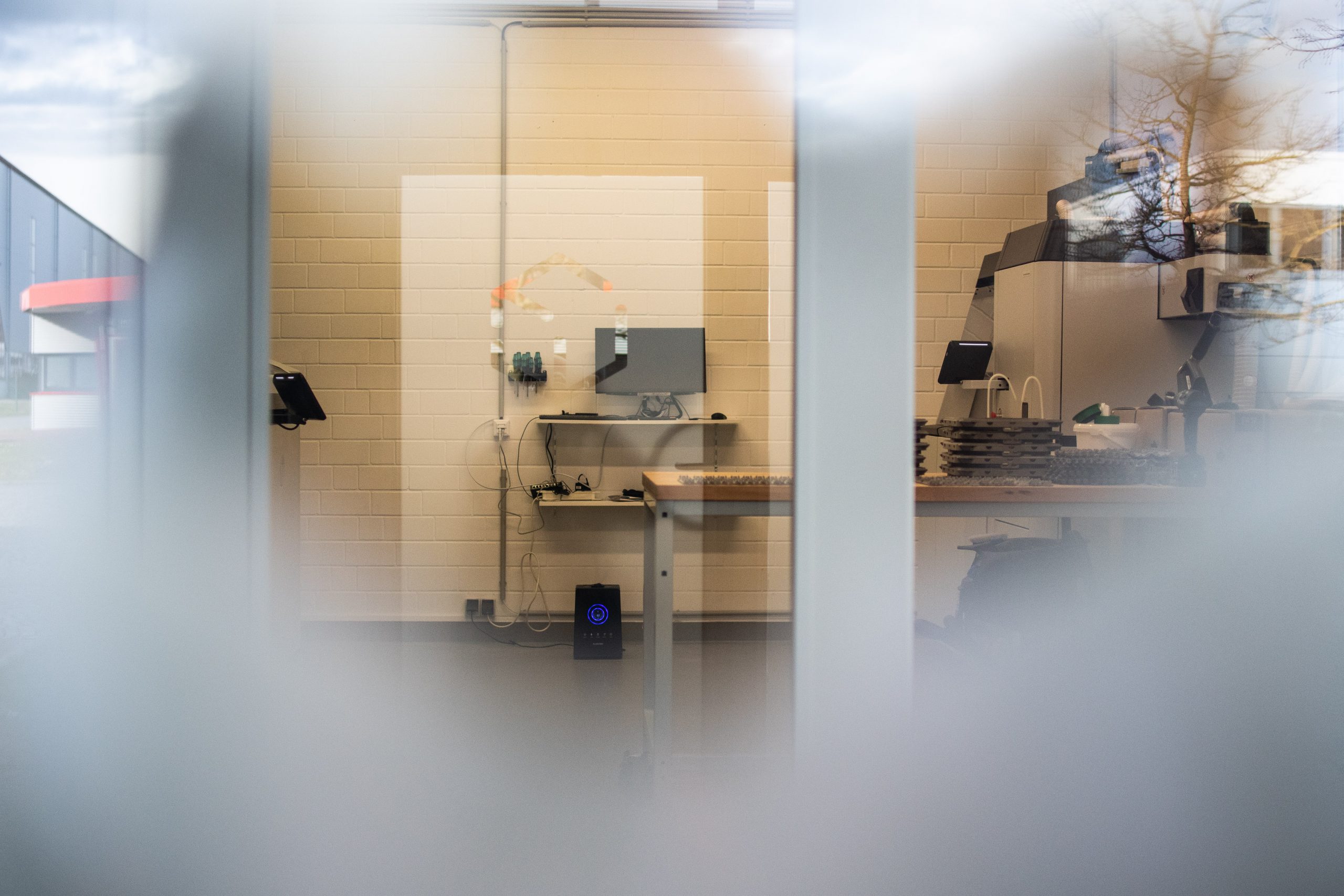 IT'S NOT ONLY PRINTED, IT'S ENGINEERED!
Industrial 3D printing for ocean technology applications. By engineers for engineers.
As specialized engineers for ocean technology, we know about the very high demands on components for the sea. So we knew from the beginning, that 3D printing would be the right technology for our ideas. Now, every part we print is a result of years of experience and in-depth attention to every detail.
BRINGING YOUR IDEAS TO LIVE: INDUSTRIAL 3D PRINTING SERVICE
For your order, you cannot only build on the same level of high print quality, but also on our profound knowledge about deep sea engineering. You can select additional services, which will help you bringing your ideas to life and creating working and reliable products that perfectly meet your needs.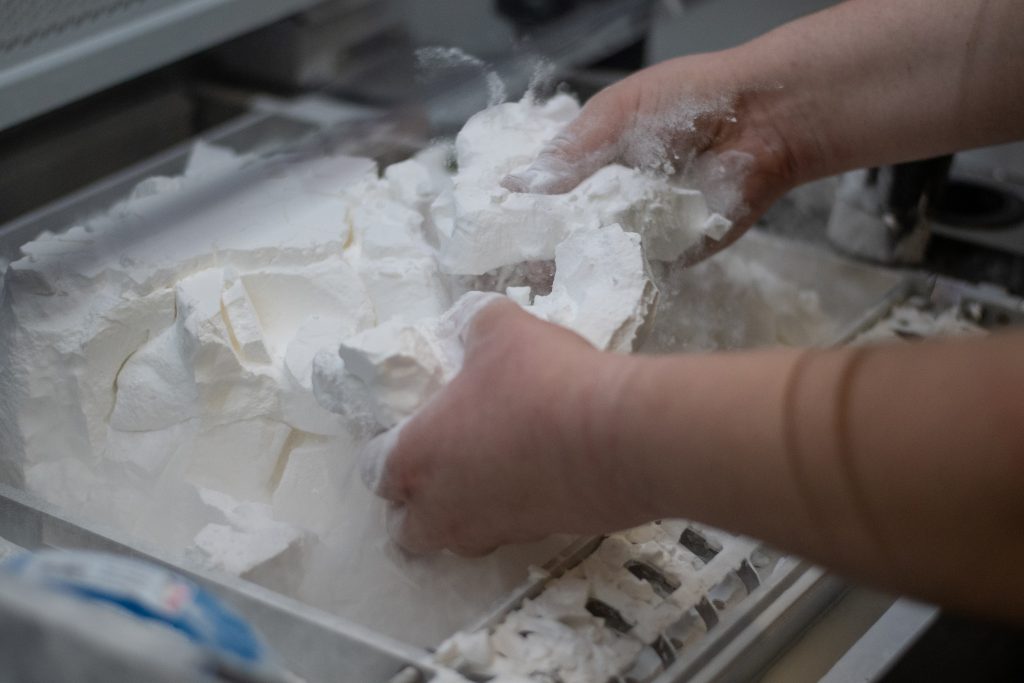 Let's build things together: customized 3D printed parts that actually work!
The one which is made for the job: The Multijet Fusion Technology
The ocean is a very rough place to work: From high pressure to salty environments, the ever-changing conditions put high stress on manufactured parts. From the beginning of our journey, we knew that we couldn't build on traditional engineering processes. This is why we relied on 3D printing from the very first day.
We had to try different printing technologies until we finally found what we need in order to meet our own high demands and the challenges of the sea. And now we want to offer you this great technology and support you with our experience:
Why we build on Multi Jet Fusion technology
The HP Multi Jet Fusion (MJF) technology is outperforming and the final parts has nothing in common with the typical weak plastic objects, you might know from other 3D printing processes.

MJF enables us to produce mechanically strong, highly resistant and extremely precise functional, ready-to-use prototypes and small series with very short lead times at simultaneously low costs.
Machine: HP Jet Fusion 5200 Series
Maximum build size: 380 x 380 x 284 mm
Layer thickness: 80 microns (0.08 mm)
Minimum wall thickness: approx. 0.5 mm
High accuracy: ±0.2 % (with a lower limit on ± 0.2 mm)
High resolution: 1,200 dpi printing resolution
High density: nearly 100 %
Ultimate repeatability: consistently high, batch-independent printing quality
Final objects are nearly isotropic.
Excellent surface quality without visible layers
Why we use PA12 (polyamide12) for printing
PA12 (polyamide 12, commonly called »nylon 12«) is a self-supporting powder, which doesn't need support structures, so that even the most complex shapes can be produced easily.
Material: polyamide 12 (PA12, »nylon12«)
Lightweight: ~1.01 g/cm³
Chemically resistant against UV, water, weather conditions and almost all chemical substances, e.g. lipids and minerals
Heat-resistant: up to ~100 °C
Long-term stable, durable and impact-resistant
Colors: stone-grey (raw parts) or black/ anthracite (dyed parts)
Better By Concept
The 3D printing technology, also called »additive process«, offers many advantages over conventional, shaving or subtractive processes – especially for the production of prototypes and small batches. The Multi Jet Fusion technology in particular provides even more specific properties. And with our knowledge and experience in the engineering of parts for underwater use that works, we offer you the best complete solution for your project!
Advantages 3d Printing
Easier and faster construction and realization of parts
Allows more complex structures
Enables to construct parts, which are not possible with other production processes
Lower weight and higherload capacity of parts
More cost-effective
More resource-friendly (it is only printed what is necessary)
ADVANTAGES MULTI JET FUSION
High construction speed
Low material consumption
Most cost-effective and economical additive manufacturing technology
Sustainable (80% powder are reused)
Fully functional and ready-to-use objects
Durable and mechanically strong (nearly isotropic) parts
Highly thermal and chemical resistant
Outperforming resolution and accuracy
Printing of even the most complex shapes and structures
Excellent surface quality straight out of the printer
ADVANTAGES OUR SERVICE
In-depth knowledge and experience in engineering and printing workable, reliable components for underwater use
Developing and manufacturing by our own
Highest demands on quality and functionality of the printed parts
Breaking new ground to reach nothing less than the best possible result
Wide range of advanced pre- and post-processing (engineering) services
Free sample available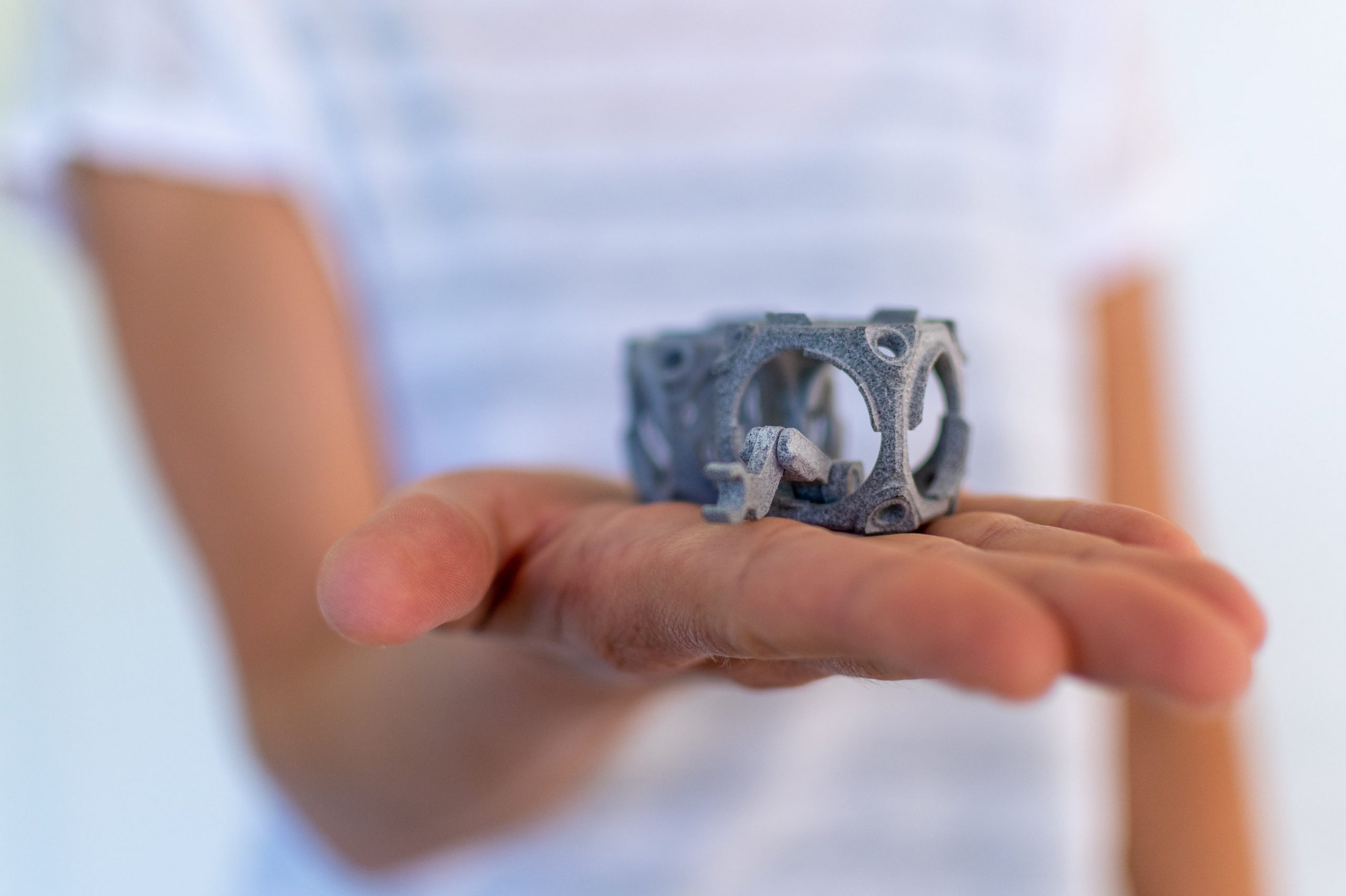 Wow – that sounds great!
Let's go ahead.
FAQ – Our Answers
Pricing, payment & shipping
How is the price for my 3D printed part calculated?
The price is calculated on the one hand by the volumetric density and on the other hand by the weight of your 3D printed part. We look at how much space is needed in the build area for your 3D printed part and how well this area is filled by the part. The weight of your part is determined by the volume of the 3D model and the density of the printed plastic (for example PA12 = 1.01 kg/liter).
What discount options are available?
We have the following scale:
Order volume
> 1,000 € = 5 % discount
> 2,000 € = 10 % discount
> 3,000 € = 15 % discount
What are the payment options?
Paypal, prepayment or by invoice.
How much does it cost to ship my 3D printed parts?
We ship worldwide with DHL. National shipping in Germany costs between 4.25 € (without additional insurance, up to 1 kg) and 19.80 € (incl. 6.00 € additional insurance, up to 31.5 kg). International shipping costs between 11.25 € (EU, ex: France / up to 1 kg) and 269.10 € (Worldwide, ex: USA / 31.5 kg)
How long does it take to create an offer?
We will provide you with a quote within a maximum of 3 business days.
How long does a print job take?
Our system prints about 4 kg of components within about 12 hours, with a further 24 hours of cooling time. Usually, your print job is ready for shipment after 5 working days.
Data, resolution & dimensions
What data formats can I upload as a 3D model?
Allowed file format for 3D data:
step · stl · iges · amf · 3mf
Is there a minimum size for 3D print models?
Yes, at least 5 mm x 5 mm x 5 mm.
Fonts with font height of at least 2.5 mm.
Wall thickness: 0.5 mm to 30mm.
How large can the parts be printed?
The part size is limited by the dimensions of the build space: 380 mm x 283 mm x 380 mm (width x depth x height).
What is the resolution of the printer?
In the X-Y plane 1,200 dpi, in the Z direction 0.08 mm.
Can the resolution be changed?
What is the dimensional accuracy of the components?
This depends, besides other things, on the geometry of the component. In general, we achieve +/- 0.2 mm to +/- 0.2 % of the component size in all dimensions. The part size is limited by the dimensions of the build space: 380 mm x 283 mm x 380 mm (width x depth x height).
Material, technology & processing
What is Multi Jet Fusion (MJF)?
A powder based layered printing process where agents are used to fuse defined patches of each layer in a controlled manner.
What is the difference between the MJF process and other 3D printing processes?
MJF is a high resolution, high speed process with consistent dimensional accuracy for high load capacity, medium quantity production parts. The parts produced have nearly the same mechanical properties in all dimensional directions (isotropic).
What material can be used for printing?
We print with a polymer powder of PA12 (nylon).
In addition, other plastics such as TPU, TPA, PP, PA11 and PA12GB (with glass filling) can be printed.
What is the scope of services included in the MJF 3D printing service?
Loading and nesting of 3D models in the build room, as well as printing, cleaning by glass bead blasting.
What kind of pre-treatments for 3D models are possible?
Changes in geometry
Load analysis of components
Weight optimization
Adaptation to offshore and deep-sea requirements
What kind of post-treatments for components are possible?
Surface compression by high-pressure glass bead blasting
Coloring of the surfaces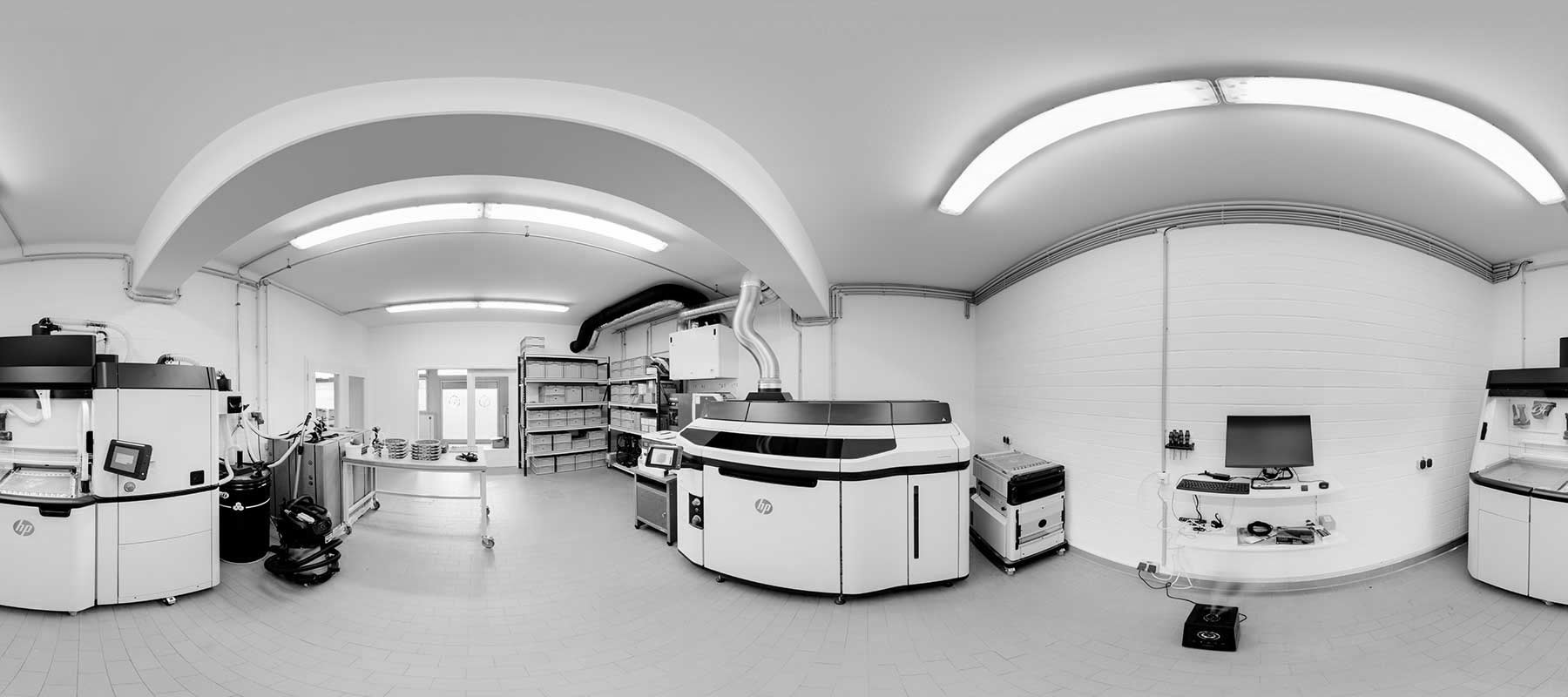 Where the magic happens:
the FRAMEWORK ROBOTICS lab tour